YPW Achieves Highest Quality Certification in Texas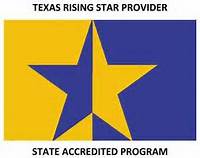 YPW Spanish Immersion School Awarded the Highest Quality Certificate in Texas
The YPW Spanish Immersion School staff and teachers have much to celebrate. Not only has the school grown tremendously in the past years in the infant to after school programs, mainly through word of mouth, but it has achieved the highest quality certification in Texas.  YPW  is the first Spanish Immersion School  in Texas to achieve the Texas Rising Star Quality Certification. This great achievement is a credit to its passionate, tightly-knit community of administrators, teachers and parents.
Certification through The Texas Rising Star (TRS) program, follows a rigorous multi-step process involving classroom observations, in-depth curriculum documentation review and interviews with faculty and administration.
At YPW Spanish Immersion School, the powerful combination of having a strong academic curriculum, exceptional, caring teachers and staff prepares your children for a life long love of learning and love for others.
Parents interested in learning more about YPW Spanish Immersion School distinctive curriculum, philosophy of teaching and experienced & nurturing educators are invited to attend an Information Session.  To sign up for an Information Session please visit: http://www.ypwkids.com/about/scheduling-a-visit-to-our-school/